Mammoth is a Bozeman-based design and marketing firm formed in 2013. Mammoth's key staff has extensive expertise in the advertising and marketing fields with both local and national clients. The consistent theme is that we translate big ideas into big results. Our work includes strategy and research; branding and repositioning of brands; media planning and placement; account management; social and digital media; and award-winning creative concepting and executions across all media channels.
Doug was born and raised on a four generation family farm in Nebraska, and graduated from the University of Nebraska with degrees in Advertising and Psychology in 1997. Go Big Red!
Doug spent the summer of 1995 working in Yellowstone National Park (Mammoth Hot Springs), and quickly realized he needed to trade the Midwest for the mountains and rivers of the West. After graduating from Nebraska, he relocated to Seattle and went to work at Canoe & Kayak Magazine. In the evenings Doug pursued an MBA at the University of Washington – Seattle, and graduated in 2006. After Seattle, Doug and his family moved to Idaho where he worked in newspapers, and finally made the move back to Montana in 2007 where he went to work for the Bozeman Daily Chronicle as the Director of Advertising. In 2013, Doug left the publishing world and started Mammoth.
Doug's experience lies in strategy, account services, and digital marketing.
​Outside of work, Doug enjoys camping and river time with his family, skiing, golfing, live music, and spending time in the outdoors.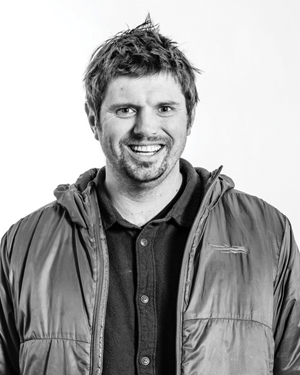 Tyler Maxwell
Creative Director
Tyler was born and raised in Bozeman, and naturally grew up enjoying outdoor activities and extensive travel with his family. Through his youth and college Tyler was a dedicated and competitive athlete in ski racing and kayaking.
Tyler graduated from Montana State University in 2006 with a degree in graphic design. After a year traveling he worked in many different creative fields gaining experience in the design, web, and marketing industry. After taking a year off to travel, Tyler worked as an industrial sign builder, real estate marketing director, free-lance designer and project manager, and eventually helped produce and manage Bomb Snow, a ski lifestyle magazine, and Bomb Flow, a river lifestyle magazine.
Tyler has extensive experience in design, social media, and developing strategic marketing campaigns.
Outside of work, Tyler enjoys fly fishing, hunting, hiking, rafting and just being outside.